The New JUVEDERM VOLUMA™ XC
in Beverly Hills, Los Angeles
Dr. Jones was the Lead Investigator on the US FDA trial for The New JUVEDERM VOLUMA™ XC and was responsible for training the majority of physicians on the product in the United States.
Why Dr. Jones?
He's an innovator in the field of non-surgical facial rejuvenation.
He served as Lead Investigator on the JUVEDERM VOLUMA™ XC study, and as an investigator on the BOTOX® crow's feet clinical study that led to FDA approval for both.
He created the Dr. Derek Jones Facial Harmonics™ Approach.
Dr. Derek H. Jones was the Lead Investigator of the U.S. FDA studies on JUVEDERM VOLUMA™ XC, recently FDA-approved as the first injectable filler specifically formulated to contour and shape the cheeks to correct mid-face volume loss due to normal aging. Results usually last 24 months or longer, with two-thirds of patients maintaining results at 24 months. In the FDA study led by Dr. Jones, 90% of patients rated an improvement in their appearance with JUVEDERM VOLUMA™ XC. In addition, patients reported themselves looking younger after treatment compared to baseline by an average of 5 years.
Having received the Black Diamond Status for BOTOX® Cosmetic and facial fillers by Allergan Pharmaceuticals, Dr. Jones continues to stay on the forefront of new technology in his field. "I research and lead clinical trials on many products before they ever hit the market," Dr. Jones says, "so my team is not only ahead of the curve... but is creating the curve because we help bring forth these innovations."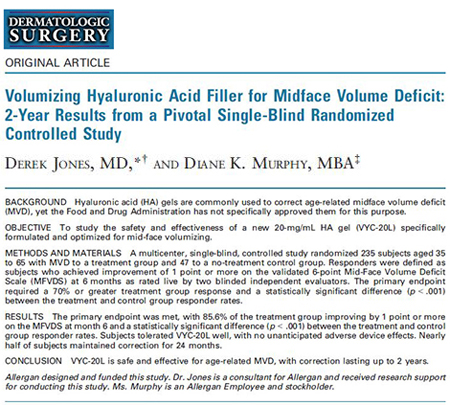 Am I a candidate
for The New JUVEDERM VOLUMA™ XC?
Dr. Jones invented the Dr. Jones Facial Harmonics™ Approach which he teaches to physicians around the world and uses it to evaluate each patient. Watch the video below to see if The New JUVEDERM VOLUMA™ XC is right for you.
Why would I need The New JUVEDERM VOLUMA™ XC?
As we age our face loses fat and becomes hollow, which leads to sagging skin and a less youthful appearance. This may be particularly apparent in those with an active lifestyle and lean body mass. While some may be candidates for facial surgery, many may benefit from a less invasive option such as facial fillers like JUVEDERM VOLUMA™ XC available at our Beverly Hills clinic.
When you visit Skin Care and Laser Physicians of Beverly Hills for a consultation, we will assess you to see exactly what you will need to help improve your appearance.
Request a consultation with us online or call our office at 310-246-0495 for more information.
JUVEDERM VOLUMA™ XC EXPLAINED
JUVEDERM VOLUMA™ XC was specifically designed to restore and lift the cheek area that has lost its shape due to normal aging. JUVEDERM VOLUMA™ XC was formulated for contouring and shaping, making it a great option for those who need more than correcting a few lines and wrinkles.
JUVEDERM VOLUMA™ XC is made of natural hyaluronic acid (HA), a major component of your own skin. JUVEDERM VOLUMA™ XC was developed to be smoother than other hyaluronic acid fillers, making it easier to inject during treatment and resulting in a smooth, natural look and feel. For many Beverly Hills women and men, JUVEDERM VOLUMA™ XC has the benefit of lasting up to 24 months or longer - much longer than any other filler on the market today. This makes JUVEDERM VOLUMA™ XC a great long lasting option for those who wish for a fuller, more youthful facial appearance without surgery. In addition, it is easily and immediately reversible if ever needed.
What sets us apart?
World Class Credentials.
Quality of Service.
Natural Results.
YOUR JUVEDERM VOLUMA™ XC TREATMENT
To begin your JUVEDERM VOLUMA™ XC treatment at our Los Angeles area practice, Dr. Jones will clean the area to be treated and may apply an anesthetic to ensure the most comfortable treatment possible.
Treatment with JUVEDERM VOLUMA™ XC is similar to other hyaluronic acid fillers, and the formulation contains lidocaine anesthetic which takes effect immediately making discomfort minimal. Just like other injectable fillers, JUVEDERM VOLUMA™ XC is injected into the areas of the face that lack volume. While some may experience minor swelling or bruising around the injection sites, this will subside quickly. Treatment time is approximately 30 minutes, and patients are free to return to their normal activities immediately after treatment.
Following the procedure, your physician may massage the treatment sites to make sure JUVEDERM VOLUMA™ XC is properly distributed and the results are even. Before you leave, Dr. Jones may apply ice to your treatment sites for at least 10 minutes to help minimize swelling, inflammation and bruising. Rare bruising may be treated with the V-Beam laser with overnight resolution.
ABOUT DR. DEREK JONES
As the lead investigator on the national FDA JUVEDERM VOLUMA™ XC clinical trial, Dr. Jones brings clinical expertise as well as his artistic approach to each patient consultation and treatment. He offers a novel perspective with a strong combination of both an artistic eye, backed by his scientific technique of evaluating individual facial proportions and symmetry. By using this unique approach, Dr. Jones creates results that are relaxed, refreshed and never "overdone".
In addition to the JUVEDERM VOLUMA™ XC clinical trial, he has been an investigator for several products, including Juvederm®, Belotero®, Latisse® and XEOMIN®. Moreover, Dr. Jones has delivered 300+ scientific presentations worldwide and has authored more than 80-published pieces in peer reviewed journals and textbooks.
Skin Care and Laser strive to provide
Relaxing Environment

By creating an inviting and peaceful environment, we hope to give our clients a comfortable and calming space in which to address their anti aging skin care needs. We recognize that the process does not start or stop with the actual procedure -- it is the entire experience that supports a client in their pursuit of personal change.

Professional Service

At Skin Care and Laser, our dermatology team has years of experience treating aging skin. Our dermatologists give the best advice and they can offer you the best and most potent anti aging treatments. They strive to offer you excellent service in a relaxing and confidential environment because they take your medical care seriously.

Excellent Results

Our dermatology team prides itself on achieving results. Our anti aging skin treatment services will greatly improve the appearance of your skin. Our cutting edge procedures and treatments will help rejuvenate your skin and reduce your aging skin problems.