VBEAM & Excel V in Beverly Hills
VBEAM & Excel V in Beverly Hills
Bringing the Heat
Vascular conditions are blemishes caused by blood vessels failing to function the way they should. Issues range from thin, visible veins to large swaths of discolored skin.
The Excel V laser by Cutera® and VBeam laser systems, used at Skin Care and Laser Physicians of Beverly Hills, are designed to treat vascular conditions. They specifically target the impacted areas with heat to destroy wayward vessels and create a more uniform skin appearance and tone.
Your Treatment
The Excel V and VBeam lasers can treat a variety of skin conditions relating to dilated blood vessels.
Rosacea: This disorder gives its sufferers red cheeks, nose, chin, and forehead. Doctors still don't know what causes it, and there's no cure, but it can be controlled, and its appearance can be minimized.
Facial Telangiectasia: These are blood vessels that dilate to noticeable proportions, primarily on noses, cheeks, and chins.
Spider veins and other leg veins: Blood flow problems can create a condition that makes thin, winding veins stand out from the surrounding skin in snaking red or blue lines, typically on legs. They can also appear on faces.
Port Wine Stains: These are collections of blood vessels that form dark red or purple patches on the skin. They typically appear on the face as a birthmark, but can appear on the chest, arms and legs, or elsewhere.
Cherry Angiomas: Small growths that take their name from their red or purple color can pop up pretty much anywhere on a patient's body. The capillary clusters appear more frequently as patients get older.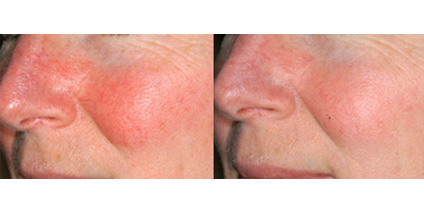 Real patient results may vary.
When you visit Skin Care and Laser Physicians of Beverly Hills to discuss your vascular condition, we will assess you to see exactly what you will need to help improve your appearance.
True professionals
At Skin Care and Laser Physicians of Beverly Hills, our team has years of experience working with patients from the Los Angeles area. The staff is made up of people who take your medical care seriously and handle everything with skill, discretion, and compassion.
Desired results
Vascular conditions are noticeable, and the results will be as well. The Excel V or VBeam laser, at the hands of our talented professionals, can lead to life-altering changes.
Learn more about Excel V or VBeam. Email our office or call at 310.246.0495 to book a consultation today.