Radiesse® in Beverly Hills, Los Angeles
Radiesse® in Beverly Hills, Los Angeles
Loss of elasticity and volume can result in wrinkles, fine lines, and a sagging complexion, all of which rob your skin of that healthy youthful appearance. Dr. Jones commonly uses RADIESSE® in Los Angeles to treat loss of fat in the face, hands, and the jawline. Made of calcium-based microspheres suspended in a water-based gel, RADIESSE® treatments are reported to last a year or more. A RADIESSE® treatment stimulates the body to produce new collagen. It is a particularly good option for volumizing the tissue lost from aging in the hands and to reshape a sagging jawline. Dr. Derek Jones has performed over 70,000 filler procedures and when you visit Skin Care and Laser Physicians of Beverly Hills for a personal consultation, we will assess you to see exactly what you will need to help improve your appearance.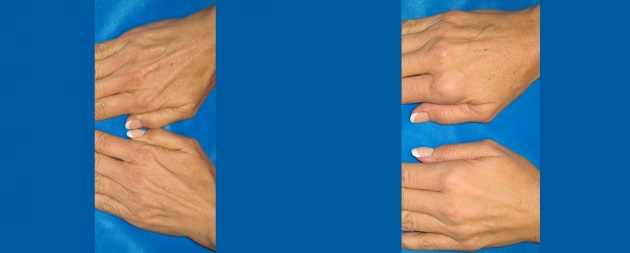 Real patient results may vary.
Radiesse® Explained
RADIESSE® Volumizing Filler is a long lasting, FDA-approved dermal filler. First used in dentistry and reconstructive surgery, it has a long safety record and is considered a top treatment option for moderate-to-severe creases, such as nasolabial folds, marionette lines, and frown lines, at our Beverly Hills office. RADIESSE® is also used to enhance fullness of the cheeks and other facial contours.
RADIESSE® works with the body to plump and smooth skin. With age, collagen in the skin breaks down, diminishing facial volume and elasticity. Loss of collagen results in wrinkles, facial lines, and skin laxity, which diminishes the skin's fresh appearance.
Made of tiny calcium-based microspheres suspended in a water-based gel, RADIESSE® helps restore and rebuild lost collagen. The calcium-based microspheres act as a scaffold under the skin, stimulating collagen production and providing a structure where your own natural collagen can grow. This process continues for several months, restoring volume, flexibility, and strength to your skin.
Over time, your body absorbs the tiny calcium-based microspheres and the gel, leaving behind only your own natural collagen. The results are immediate and last a year or more in many patients at our Beverly Hills office!
RADIESSE® helps men and women in Los Angeles achieve natural long-lasting facial rejuvenation by:
Replenishing your skin's lost volume
Stimulating collagen production for long-lasting results
Refreshing your appearance
Because the calcium-based microspheres are biosynthetically produced (no animals or animal products are used), there is little risk of an allergic reaction. No skin testing is required prior to treatment with RADIESSE® and side effects are rare.
Your Radiesse® Treatment
RADIESSE® treatment at Skin Care & Laser Physicians of Beverly Hills is a simple, safe and minimally invasive procedure that can be done over your lunch hour. The injections are performed with a very fine needle and can be combined with lidocaine (an anesthetic) to significantly reduce injection site pain. A topical numbing cream may also be applied.
Results of RADIESSE® treatment are immediately visible and natural looking! Best of all, they can last up to a year or longer in some patients.
Following the procedure, Dr. Jones may massage the treatment sites to make sure RADIESSE® is properly distributed and the results are even. He may also apply ice for approximately 10 minutes to help minimize swelling, inflammation and bruising at the injection sites.
Some people may experience minor swelling or bruising around the injection sites. However, these reactions quickly subside. Most patients return to their normal, daily activities right after their visit.
Many of the men and women we treat opt to combine other skin fillers or BOTOX® Cosmetic with RADIESSE® treatment with for complete facial rejuvenation.
Let Skin Care & Laser Physicians of Beverly Hills in Los Angeles help craft a look you'll love!
Book your appointment today and restore your skin's youthful appearance with RADIESSE®. Email or call our office at 310.246.0495.