Aesthetic Dermatology
Two decades of defining facial artistry with uncompromising results.
Our experienced physician team at Skin Care and Laser Physicians of Beverly Hills provide dermatology and other skin care treatments to help you look and feel your best. As an investigator on treatments ranging from BOTOX® Cosmetic, JUVÉDERM® VOLUMA® and other popular treatments, Dr. Jones is an innovator in cosmetic dermatology.
A Skin Care and Laser Physicians of Beverly Hills visit starts with a consultation, giving the dermatologists the opportunity to assess your skin and determine the treatments best suited for generating your desired cosmetic change. Los Angeles and Hollywood area dermatology patients can request a consultation with us online or call our office at 310-246-0495 for more information.
Working in a medical facility we have access to products and treatments that can only be used in a medical setting. We can offer you the best and most innovative treatments available. Here is a list of the treatments currently offered at our practice:
Dr. Derek Jones served as the lead investigator for this injectable, which reduces the appearance of a double chin, also known as submental fullness. Kybella™ works by physically destroying fat cells, safely releasing the unwanted fat, which can't return. The result is greater definition between the chin and neck. Learn more about Kybella™ by clicking here.
BOTOX® Cosmetic is a safe, effective treatment for excessive perspiration or dynamic wrinkles caused by facial expressions. Dr. Jones was an investigator on the use of BOTOX® Cosmetic to treat crow's feet. If you would like to see how BOTOX® Cosmetic can help you attain a naturally beautiful facial appearance, click here.
Current Cosmetic Studies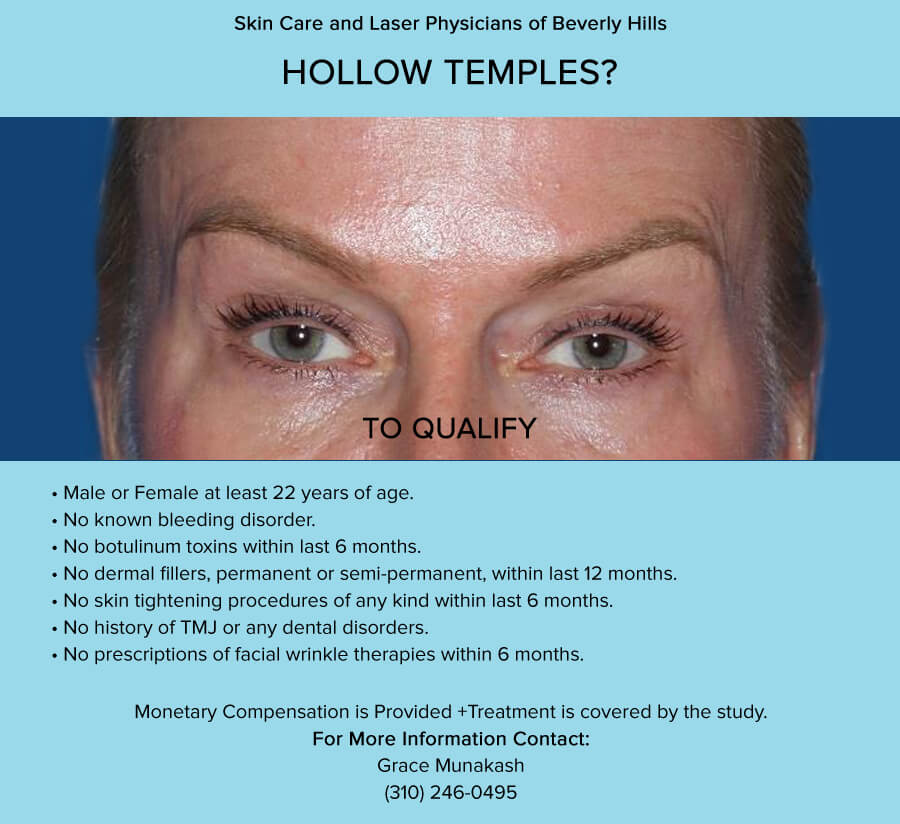 For more information or if you'd like to find if you are a suitable candidate for our studies,
please call 310.246.0495 or email info@skincareandlaser.com.
Dr. Jones was the Lead Investigator of the United States FDA studies on JUVÉDERM® VOLUMA®, which has been FDA-approved for restoring mid-facial volume loss. He was also an investigator on BELOTERO® and XEOMIN®. We also offer Restylane® and RADIESSE® at our practice. Learn more about dermal fillers and how they can help restore lost volume of the face and lips.
IPL (Intense Pulsed Light) delivers smooth pulses of light that enhances the results of your skin rejuvenation or hair removal therapy. IPL is an option for those who suffer from age spots, rosacea, superficial wrinkles, and skin pigmentation. Learn more about IPL.
Customized laser procedures are commonly used to treat irregularities in skin tone or color due to blood vessels, melanocytes, or trauma. See how the Fraxel® Restore laser can help you.
Skin concerns such as sun spots, uneven tone, and other conditions can be treated with lasers. We offer a variety of lasers that can treat multiple concerns. Find out more about laser skin resurfacing.
Often, even after adhering to a healthy diet and exercise regimen, stubborn fat will not go away. Coolsculpting® is becoming a popular option for those who wish to remove fat in select areas without surgery. Learn more about it by clicking here.
Laser hair removal is an option for those looking for a more permanent solution to hair removal. Learn more about our laser hair removal process here, which is suited for all skin tones.
Anyone ready to find out more about what our team offers can be assessed so a physician can develop a personalized plan.
Our Physicians are World-class Leaders in Cosmetic Dermatology.
Skin Care And Laser Strives To Provide
Relaxing Environment

Our goal for the space we work in is to make it welcoming and relaxing, so our clients will feel both confident and comfortable when they come in seeking skin care advice and services. After all, the whole experience—not just the treatment itself—is part of the transformative journey, so every aspect should work in harmony to create a sense of well being.

Professional Service

Skin Care & Laser Physicians of Beverly Hills is made up of three board-certified dermatologists who recommend courses of action and perform treatments by drawing on their years of skin-focused experience. Each person who comes in is treated as an individual with unique needs, with our physicians choosing from the latest and most advanced techniques and scientific breakthroughs to deliver superior care.

Excellent Results

Since every treatment is tailored to the client, results reflect that customized approach. By working with thoroughly experienced professionals using cutting-edge rejuvenation strategies, you can expect results that not only address your anti-aging goals, but give you an overall refreshed and rejuvenated look.
Request a consultation with us online or call our office at 310.246.0495 for more information.