Kybella® in Beverly Hills
Kybella® in Beverly Hills
Learn About the Double Chin Treatment from National Expert Dr. Derek Jones
The FDA has approved a safe and effective option to get rid of submental fullness, often referred to as a "double chin": Kybella®. Beverly Hills' Dr. Derek Jones was the lead investigator on the Kybella® clinical studies that led to the approval.
"This is a groundbreaking product," Dr. Jones said. "It is the first-of-a-kind injectable drug that contours and improves the appearance of submental fullness, which patients know as a double chin."
Why Dr. Jones?
He's an innovator in the field of non-surgical facial rejuvenation.
He served as Lead Investigator on the JUVÉDERM VOLUMA™ XC study, and as an investigator on the BOTOX® crow's feet clinical study that led to FDA approval for both.
He created the Dr. Derek Jones Facial Harmonics™ Approach.
According to the American Society for Dermatologic Surgery, 7 out of 10 people — women and men alike — are frustrated by submental fullness: the presence of subcutaneous fat that can detract from an otherwise pleasing appearance. One of the most persistent and visible signs of such fat is along the neck beneath the chin, often leading patients to seek double chin treatment.
Though the chin and neck are frequently overlooked by patients hoping to improve their appearance, these features function as an important frame for the face, and a change there can dramatically improve the way you look. The presence of submental fat, whether due to genetics, diet, aging, or some combination of the three, can add the impression of both years and pounds to a person's face.
At Skin Care and Laser Physicians of Beverly Hills only board-certified cosmetic Dermatologists perform injectable and laser treatments.
Dr. Derek Jones, founder and director of Skin Care and Laser Physicians of Beverly Hills, is offering Kybella®, the FDA-approved treatment that will help revolutionize double chin treatment for patients in Beverly Hills and beyond. Dr. Jones is an author, editor, and leading expert on the subject of aesthetic injectables, and, as noted above, he served as lead investigator for Kybella® — initially known as ATX-101 — ultimately leading to its status as the first FDA-approved drug of its kind for reducing and contouring submental fullness.
How Does Kybella® Work?
Previously, patients plagued by an unwanted double chin would turn to either liposuction or a neck lift to address their aesthetic concerns. Now, patients seeking double chin treatment in Beverly Hills have a nonsurgical, noninvasive option in the form of Kybella® — an injection of non-animal deoxycholic acid under the chin to dissolve unwanted, excess fat. Deoxycholate is a molecule that occurs naturally in the body and helps in the process of breaking down fat.
After the patient and doctor agree at a consultation that Kybella® at the Beverly Hills facility is the appropriate double chin treatment, the area to be treated is marked with a pen and numbed using topical anesthesia or some other method. The deoxycholic is then injected into the skin.
Kybella® is comparable to other injectables like BOTOX® and Juvéderm® in that no surgery is required. Some swelling and tenderness after treatment is expected, though it usually resolves within a few days. There may also be temporary numbness at the injection site, which resolves. The use of ice and painkillers reduces these mild effects.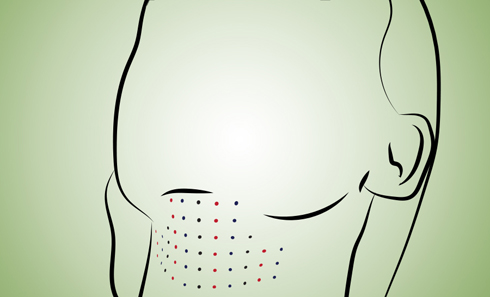 The actual time required to complete the procedure is about 15 to 20 minutes, and patients can return to work or their daily routine immediately afterward.
Multiple injection sessions at monthly intervals are required to achieve optimal improvement. While most patients achieved desired reduction within three double chin treatment injection sessions, up to six sessions may be required.
Since Kybella® destroys the unwanted fat, subsequent treatments after an ideal look is achieved are not expected. Once the fat is gone, it is gone.
As with all injectables, it is not uncommon for patients to experience some reaction at the injection site. This may include redness, itching, bruising, hardness, and discomfort. All of these minor symptoms typically resolve in the hours and days after the treatment session. Possible side effects will be discussed during the consultation, when a physician will be able to answer specific questions and address any particular concerns.
More About Kybella® Double Chin Treatment
Before being approved by the FDA, Kybella® was the subject of about 20 clinical studies involving more than 2,600 patients. Kythera Biopharmaceuticals spent more than eight years developing the treatment. During that time, researchers found:
More than 68 percent of the patients participating in the phase III clinical trials responded to the Kybella® double chin treatment, as opposed to a less than 20 percent response in the patients who received a placebo.
A well-characterized safety profile.
A 79 percent satisfaction rate for patients treated with Kybella®.
Dr. Jones was an instrumental part of bringing Kybella® from those years of studies to its availability for the public today. His expertise was vital to its now growing popularity, and he continues to be a go-to source on Kybella® as a double chin treatment option.
Kybella® is approved only for treating excess fat in the submental area, so patients hoping to use it for bulges elsewhere need to explore other options.
What Does a Kybella® Treatment Cost?
Since the number of Kybella® treatments necessary to achieve a patient's aesthetic goals depends on the patient's initial amount of submental fat and desired end results, costs are discussed in person at a consultation.
The Kybella® Consultation
Kybella® is a powerful and effective treatment, so patients considering it should be sure to discuss anything with their doctor that could impact their results. This includes prior or planned neck or face surgery, other recent or upcoming cosmetic or medical treatments (including injectables, lasers, and more), and any medications, vitamins, or supplements being taken—especially blood thinners. Women should also mention if they are breastfeeding, pregnant, or plan to be pregnant soon.
The consultation is also a time for patients to get further educated on Kybella® and have their questions answered. The consulting physician can provide before-and-after photos of other patients who received Kybella® to demonstrate the sorts of results possible for patients who choose the injectable.
Finally, Kybella® patients should ensure that they feel comfortable with their physician and the treatment before proceeding. Patients who have a realistic idea of how their submental fat will be impacted and what to expect are often highly satisfied with their results.
More About Submental Fullness
The under-chin fat that Kybella® treats may be what is known as "stubborn fat" or "diet-resistant fat," given its tendency to remain in place even as bulges diminish elsewhere on the body due to a change in eating habits and increased physical activity.
Dieting and exercise shrink fat cells, but do not remove them from the body. The number of fat cells in the submental area basically stays the same, which is not a problem as long as a person's fat-reduction methods of choice are maintained. Given the proper circumstances, however, the diminished fat cells will grow again, causing a bulge to reappear in the same place as it was before.
A 2015 American Society for Dermatologic Surgery survey found that 67 percent of the respondents admitted to being bothered by submental fullness, ranking it as a cosmetic problem on the same level as wrinkles and lines that appear around and beneath the eyes.
Kybella® physically destroys the unwanted cells, and the fat is eliminated. This is not fat that can "regroup" and expand, because it simply no longer exists in the body. Weight gain after a successful Kybella® treatment can impact results, but the look is typically different since the overall number of fat cells is lower than before.
Another option for reducing submental fullness is CoolSculpting®, which has a special applicator designed specifically to treat the small area beneath the chin. Like Kybella®, CoolSculpting® is a nonsurgical option, though it uses carefully monitored drops in temperature to damage and destroy unwanted fat cells. Dr. Jones and his team can help each patient to determine the best method of reducing submental fat, whether that is Kybella® or another treatment.
It is important to note that Kybella® and other, similar treatments for reducing submental fat are cosmetic solutions and not intended as weight-loss strategies. Patients looking to control their weight for health reasons, or who have a significant amount of fat to lose from all over their body, should talk to their primary care physician about their situation and goals.
Skin Care & Laser Physicians of Beverly Hills can also treat small fat deposits, known as lipomas, which appear as bumps under the skin. The non-cancerous bumps typically pose no health concerns and can be easily removed if they made a patient uncomfortable.
Final Words on Kybella®
Skin Care & Laser Physicians of Beverly Hills is a physician-only practice, which means a dermatologist with a medical degree will administer your Kybella® injections. This is not a physician assistant or nurse providing treatment, but an actual physician with years of education, hands-on training, and experience, as well as a breadth of knowledge about the face as a whole and an understanding of how changes to one area impact another.
Kybella® may be used as a standalone treatment, or incorporated into a larger set of procedures coordinated to give the entire face a refreshed and rejuvenated look. Learn more about Kybella® for Beverly Hills and all of the Los Angeles area—as well as difference a physician-only practice can make—by scheduling a consultation.
Learn more about Kybella® for Beverly Hills-area patients dealing with a double chin. Call national expert Dr. Derek Jones of Skin Care and Laser Physicians of Beverly Hills at 310.246.0495 or contact us online to find out more.