Vollure™ XC
Enjoy Long-Lasting Results for Smoothing Facial Wrinkles in the Los Angeles Area
In 2017, Skincare & Laser Physicians of Beverly Hills welcomed Juvéderm Vollure™ XC to the Los Angeles-area practice, where the hyaluronic acid-based dermal filler joined a growing selection of FDA-approved injectables for giving skin a smoother, more youthful look. While there are other products available to treat moderate to severe wrinkles and folds on the face, Vollure™ XC was the first with results that studies have shown to last up to 18 months.
Specifically, Vollure™ XC targets moderate to severe "parentheses lines" and similar facial creases. These lines appear as collagen and hyaluronic acid levels drop in aging skin, causing it to thin, dry out, and grow less elastic. Volume loss leads to wrinkles forming, resulting in lines that run from the sides of the nose to the mouth, as well as lines that run from the sides of the mouth to the chin.
If you'd like to discuss the benefits of Vollure™ XC at our Los Angeles-area practice, please inquire about a consultation with us online or call our office at 310.246.0495 for more information.
Current hyaluronic acid-based fillers used for improvement of nasolabial folds, such as Juvéderm® Ultra and Restylane®, have been shown to last up to one year, but in the U.S. clinical trials, the majority of patients treated with Vollure™ XC were very satisfied with its effects at a year and a half.
WHY SKIN CARE & LASER PHYSICIANS OF BEVERLY HILLS?
Dr. Derek Jones was the first physician in the United States to inject Vollure™ after its FDA approval, and he was responsible for training physicians across the country on its proper injection.
Dr. Jones and his medical colleagues also served as the principal investigators on the Voluma® FDA approval studies. Vollure™ is in the same family as Voluma®, with both providing results lasting 18 to 24 months or more after injection*. At Skin Care & Laser Physicians of Beverly Hills, we hold ourselves to the highest standard: Only cosmetic fellowship-trained and board-certified physician dermatologists perform injectable procedures.
Our commitment to being a physician-only practice gives patients peace of mind, knowing that every treatment session will be carried out by a professional who truly understands skin and the treatment. A thorough understanding of how these interact allows our dermatologists to focus on safety and comfort while providing superior, natural-looking results.
Vollure™ XC: A Dermal Filler For Today
Vollure™ XC's longevity marks it as a member of the "next generation" of fillers from maker Allergan, all of them formulated using proprietary Vycross® technology that blends hyaluronic acid molecules of different weights. This blending—accomplished via a crosslinking process—gives these gels advantages in terms of structure and malleability.
Just like its widely popular sister products Voluma® XC and Volbella®, Vollure™ XC binds water in the skin in a way that means post-treatment bulges may be less likely to appear. The gel is both smooth and sturdy, combining the best of both worlds. Corrections made with Vollure™ XC are subtle, which means the resulting look is lasting and noticeable, but integrated enough with the rest of the face to appear natural.
Comparing Vollure™ XC And Other Juvéderm® Injectables
The Juvéderm® family is made up of several hyaluronic acid-based injectables, each designed to tackle specific cosmetic concerns. Patients may not know which filler is best for their individual needs—but that is not a concern. The Skin Care & Laser Physicians of Beverly Hills team will suggest the filler most appropriate for the signs of aging to be addressed and the nature of each patient's cosmetic goals.
VOLUMA® XC does more than simply reduce the appearance of creases; it actively plumps and volumizes the cheeks and is the most durable gel in the family, featuring the thickest consistency. In contrast, Volbella® XC is a very thin and light filler, making it ideal for smoothing out fine lines above the mouth and adding subtle definition to the lips. JUVÉDERM® ULTRA is also used on the lips, but is intended to increase their fullness. It can also fill in deeper wrinkles. Finally, Vollure™ XC provides a balance between the malleability of Volbella® XC and the strength of VOLUMA® XC. Vollure™ XC corrects moderate to severe wrinkles around the nose and mouth, while still allowing for natural facial movements.
The Skin Care & Laser Physicians Difference
When considering any injectable treatment, such as Vollure™ XC, it is important for a patient to choose a well-trained, board-certified aesthetic physician, such as a dermatologist, who has a proven medical background in addition to an eye for facial balance and harmony.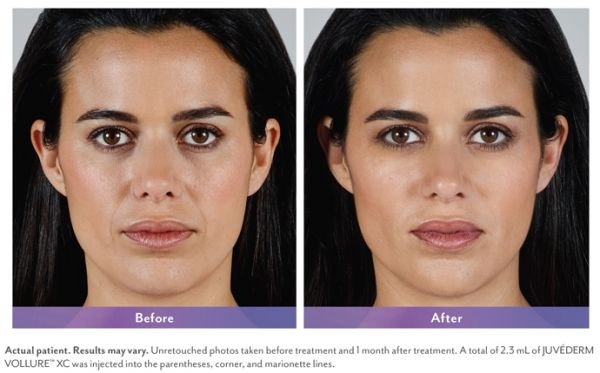 Real patient results may vary.
More Options For Facial Rejuvenation
In addition to Vollure™ XC and other Juvéderm® products, Skin Care & Laser Physicians of Beverly Hills offers Restylane®, Belotero Balance®, and Radiesse®, with each filler providing its own unique benefits. Your dermatologist will guide you in selecting the best dermal filler for your goals.
For smoothing wrinkles on the forehead, there is BOTOX® Cosmetic, a muscle relaxer and the most popular cosmetic treatment in the world. Laser resurfacing and other light- and ultrasound-based treatments can be used to address fine lines, spots, and other unwanted cosmetic problems.
Injectables and other treatments can be used in various combinations to create a balanced and harmonious look, giving each area of the face what it needs to appear smooth and youthful. Reach out to Skin Care & Laser Physicians of Beverly Hills to discuss Vollure™ XC and more by calling 310.246.0495 for more details or submitting a consultation request online.