BOTOX® in Beverly Hills, Los Angeles
BOTOX® in Beverly Hills, Los Angeles
Dr. Derek Jones has performed more than 70,000 procedures. In addition to treating many models who appear in the BOTOX® Cosmetic print and television ad campaigns, Dr. Jones has served as an investigator for the use of BOTOX® Cosmetic to treat crow's feet.
Black Diamond Injector
Dr. Jones has been honored with the coveted Black Diamond Status for BOTOX® Cosmetic and facial fillers by Allergan Pharmaceuticals, recognizing him among the top 1 percent of BOTOX® Cosmetic and JUVÉDERM® providers in the nation.
Why Dr. Jones?
He's an innovator in the field of non-surgical facial rejuvenation.
He served as Lead Investigator on the JUVÉDERM VOLUMA™ XC study, and as an investigator on the BOTOX® crow's feet clinical study that led to FDA approval for both.
He created the Dr. Derek Jones Facial Harmonics™ Approach.
JUMP TO:
Dr. Jones has perfected the way BOTOX® should be used and is celebrated by physician peers, patients, celebrities and the cosmetic industry as an artist and physician who produces a natural revitalized look that does not appear overdone. Understanding that each individual is unique, Dr. Jones uses BOTOX® like an artist uses paint. The Derek Jones Facial Harmonics™ approach is a scientific technique that he invented to evaluate the individual facial proportions and symmetry of his patients prior to treatment. This approach is proven to produce optimal, natural-appearing results and is taught to other physicians internationally.
02 Relaxing VO 2014 FINAL from Dr Derek Jones on Vimeo
Even those who are diligent about their skincare routine can't avoid wrinkles, which are created by the motion of smiling and frowning. For those who would like to see an improvement of motion-related wrinkles of the forehead around the eyes, and in between the brows, injectables such as BOTOX® Cosmetic can help. Dr. Jones and his team in Los Angeles can help reduce frown lines and crow's feet without the need for surgery. The best part: Treatment will only take about 15 minutes when working with our knowledgeable experts.
When you visit Skin Care and Laser Physicians of Beverly Hills for your BOTOX® Cosmetic consultation, we will assess you to see exactly what you will need to help improve your appearance.
Request a consultation with us online or call our office at 310.246.0495 for more information.
Our Team Of Physician Injectors Are Trained In slow And Sophisticated Injection Techniques which Make Your Treatments Relatively Painless.
1. Look Ten Years Younger Without Surgery
Wrinkles contribute to an aged appearance, but they are not caused by age alone. Sun and exposure to the elements can contribute to the formation of lines and folds, as can stress, lack of sleep, inadequate nutrition, and more. All of this can cause people to look older than their actual years.
Smoothing out the wrinkles is a simple way to take years off of someone's appearance, and there is more than one way to accomplish this. Facial surgeries are an option, but can include incisions, pulling skin tight to smooth it out, removing fat and tissue by suction, trimming away excess skin, and sutures, all of which is invasive and leaves scars.
An alternative option, BOTOX®, involves only a few quick injections. Though its wrinkle-reducing effects are temporary, it can be reapplied as needed to keep patients looking younger for as long as they want.
2. What is BOTOX® Cosmetic?
BOTOX® is an extremely safe prescription medication first approved by the FDA almost 25 years ago. As one of the most popular injectables on the market, BOTOX® Cosmetic is a wonderful treatment option for those with frown lines or wrinkles of the upper face. It is particularly helpful in improving moderate to severe lines in between the eyebrows.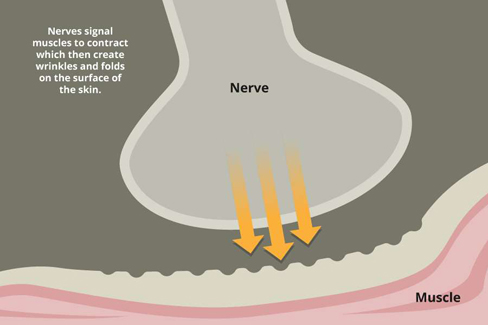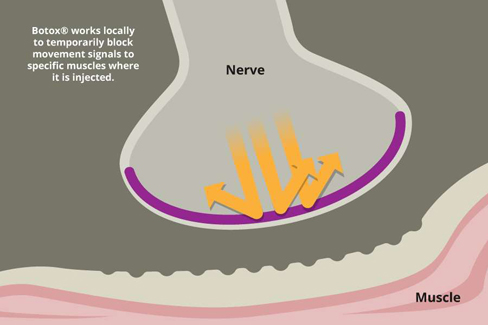 As a top nonsurgical treatment, BOTOX® Cosmetic helps improve what are known as "dynamic wrinkles" by decreasing the muscle activity that leads to frown lines. This treatment is quick and effective, and our Los Angeles BOTOX® Cosmetic patients can carry on with the day immediately after leaving our office. In about a week, patients will begin to see the results of a more youthful and smooth facial appearance.
Many of our patients experience results that last up to four months. After that, touch-up treatments can be performed to maintain your new look. While a treatment with BOTOX® Cosmetic in the Beverly Hills area will not provide permanent results, it does provide a quick and simple solution to an aging facial appearance.
3. What Specific Areas of the Face and Neck can be Treated with BOTOX® Injectable?
Through targeted injections, BOTOX® Cosmetic works by temporarily relaxing the underlying muscles to prevent frown and forehead lines, crow's feet, neck and other wrinkles and fine lines that tend to accumulate over time. A BOTOX® Cosmetic treatment helps Beverly Hills women and men address:
Horizontal forehead creases.
Lines in between the eyebrows and above the bridge of the nose.
Crow's feet, or lines at the corners of the eyes.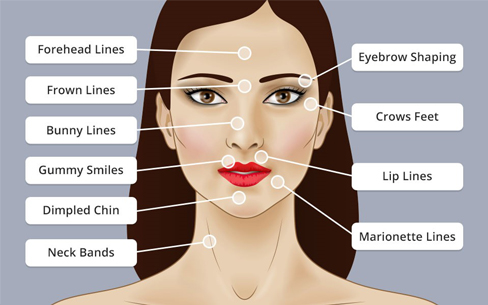 The key to BOTOX® Cosmetic is precision. When it comes to frown lines, Dr. Jones will inject it into two particular forehead muscles: the procerus and the corrugator. This treatment involves five separate injections that make a rough V shape that follows the inward curve of the eyebrows.
For crow's feet, Dr. Jones will make three injections to the side of either eye, for six injections total. These injections go into a muscle known as the orbicularis oculi, and each forms a sort of sideways V.
Sometimes BOTOX® Cosmetic can be used on lower facial muscles to improve wrinkles around the mouth. Talk to Dr. Jones to find out if this is a treatment that would be right for you.
4. Your BOTOX® Cosmetic Treatment
When you visit our Beverly Hills office for your BOTOX® Cosmetic treatment, the injections are performed with a very fine needle and are considered virtually painless. A topical numbing cream and a cold compress can be applied before your BOTOX® Cosmetic treatment in order to minimize the "pinch" sensation.
Results are seen in as little as three days and have been shown to last up to four months. The procedure takes about 15 minutes and is easy to tolerate. After treatment you may have mild redness and swelling, which can last a few hours. Those patients who are consistent with treatment may be able to wait longer in between sessions.
Despite what some may say, a BOTOX® Cosmetic treatment from our Beverly Hills and Los Angeles area practice will not inhibit your ability to frown or express other emotions. Although you can notice results from a BOTOX® Cosmetic treatment, you will appear refreshed and not "frozen" due to our skillful physician injectors.
Many women and men who come to our practice like to combine their BOTOX® Cosmetic treatment with another facial enhancement procedure such as IPL or laser skin resurfacing.
If you are considering a comprehensive makeover, Skin Care and Laser Physicians of Beverly Hills can help provide you with a look you'll love.
Setting up a visit is easy. To learn more about BOTOX® in Los Angeles, you can request a consultation with us online or call our office at 310.246.0495 for more information.
5. Who is a Candidate for BOTOX® Injectable?
Just about anyone who wants to treat their frown lines or crow's feet with BOTOX® cosmetic, including women and men, is a candidate, though there are some limitations.
Manufacturer Allergan notes that when it comes to frown lines, BOTOX® is for adults who are younger than 65.
People who are allergic to any of the ingredients found in BOTOX® or other, similar products should avoid injections, as should anyone who has received a product containing the botulinum toxin within the four months prior to a new injection.
Pregnant or breastfeeding women—or women who plan to soon get pregnant—should alert the doctor to that fact before deciding on or receiving BOTOX® injections, as should anyone with a planned upcoming surgery, a urinary tract infection, or a history of bleeding problems. In fact, a patient's medical history is important for the doctor to know before any procedure begins, which is why a consultation is such a key part of the process.
Dr. Wesley Has Written Publications On BOTOX®, fillers, Laser Resurfacing, Reconstructive Surgery, ethnic Skin, Beauty, Cosmeceuticals, and Stretch Marks, Among Many Others.
6. How Long Will it Take the BOTOX® Injectable to Take Effect?
Many patients will see almost instantaneous results from their BOTOX® injections in the Los Angeles area. While the cosmetic will immediately begin to work on the targeted area by reducing muscle activity in as soon as 24 hours, optimal results take more time. The full effect should start to be visible in about 3-4 days, reaching its peak after about a week.
7. Is There Any After-Treatment Care Required Following BOTOX® Injectable?
BOTOX® is a minimally invasive cosmetic, so patients receiving injections of it should experience little to no down time afterward. It is important to avoid applying pressure to the injection area for about 24 hours, which includes not massaging it, to help ensure that the cosmetic doesn't migrate elsewhere.
Patients can also keep any slight bruising to a minimum by keeping their blood pressure low for several hours after the injections. This includes staying away from strenuous exercise, saunas or hot tubs, and tanning sessions.
To help the cosmetic properly work its way into the treated muscles, patients are encouraged to exercise those specific muscles in the hour after receiving BOTOX®.
8. How Long will the BOTOX® Injectable Effects Last?
As noted above, the typical results from a injection last for about three to four months, though some patients have been known to enjoy a wrinkle-free period of up to half a year.
Muscle activity gradually diminishes and returns, so patients will not suddenly find themselves with wrinkles again after a certain amount of time. Instead, they will notice greater movement slowly being restored to their key forehead muscles or areas around the eyes. A follow-up treatment after four months can restore the desired effects of BOTOX®, and there are indications that repeated injections yield better results over time as the treated muscles "get used to" being paralyzed and sitting at rest. This can lead to a longer-term reduction in the severity of wrinkles.
9. Are There Any Risks and Complications Associated with BOTOX® Injectable?
While BOTOX® is approved by the FDA for treating frown lines and crow's feet, there is a risk of side effects, as with all treatments and procedures. Reported allergic reactions have included itching, redness, rashes, dizziness, and wheezing or asthma-like symptoms.
It is technically possible for the cosmetic's effects to spread to other areas of the body, though there has never been a confirmed case of such a serious side effect in relation to the proper use of BOTOX® in treating frown lines and crow's feet. Still, in the hours, days, and weeks following an injection, you should seek medical help if you develop difficulty swallowing, speaking, or breathing, or you experience overall muscle weakness, vision problems, voice changes, or loss of bladder control.
Known mild side effects include dry mouth or eyes, injection-site discomfort or pain, headache, and drooping or swelling eyelids.
Setting up a visit is easy. To learn more about BOTOX® in Los Angeles, you can request a consultation with us online or call our office at 310.246.0495 for more information.
10. Who Can Perform BOTOX® Injections?
People who administer BOTOX® in Beverly Hills and beyond must be trained and certified, and while that process adds a level of accountability, it is also open to a variety of medical professionals. You may have heard that even some dentists are offering BOTOX® injections, which goes to show that just because some people can technically deliver BOTOX® to patients, that doesn't mean they should. Though only trained professionals are allowed to administer BOTOX®, remember that being trained does not mean the same thing as having experience.
Do not settle for learning only who can legally provide BOTOX® injections, but ask about a medical professional's credentials, history with the cosmetic, and approach to facial aesthetics. Dr. Jones, for instance, has performed tens of thousands of injections and has participated in a scientific investigation that led to the FDA's approval of BOTOX® for treating crow's feet, making him a top provider.
11. Why Select Dr. Jones for my BOTOX® Injectable?
Choosing an experienced provider means you will be working with a doctor who understands recommended dosages, the importance of obtaining complete and accurate patient histories, and other factors that minimize risk of complications.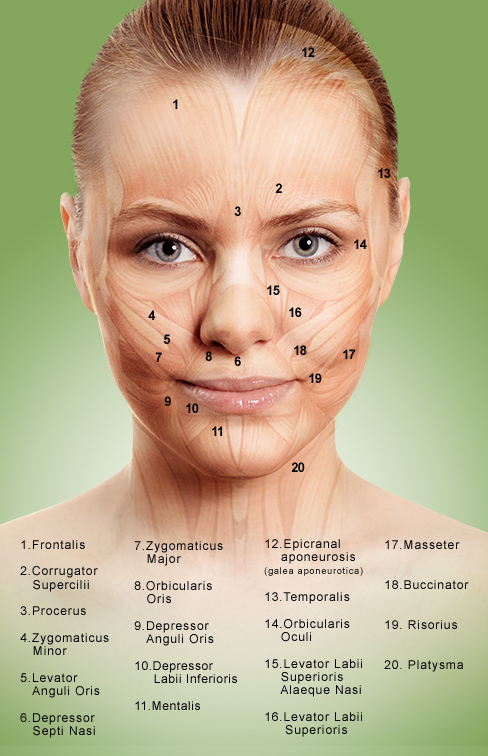 Dr. Jones is board-certified in dermatology and previously held the position of Clinical Associate Professor of Medicine at University of California, Los Angeles from 1999 to 2017. He serves on the board for and is a fellow of the American Society for Dermatologic Surgery and is a fellow of the American Academy of Dermatology. Allergan, the maker of BOTOX®, has recognized him as one of the top providers of the cosmetic in the world. He has the education and practical experience, as well as the talent, to safely help patients to achieve their desired results.
12. How Do I Schedule a Consultation at Skin Care and Laser for My BOTOX® Injectable?
With noticeable results, no surgery and no recovery time, there are many reasons to get started today. Dr. Jones and his staff are happy to answer questions about BOTOX® in Los Angeles or go over any of the information presented here in more detail.
The Derek Jones Facial Harmonics™ approach is ideal for ensuring that each individual gets personalized, effective care. Since every person is different, a personal consultation is the best way to determine whether BOTOX® would be the most effective treatment, how it should be applied, and if there are other treatments that may complement the effects of BOTOX® to provide an overall balanced, natural, healthy-looking, and youthful appearance.
Real patient results may vary.
Setting up a visit is easy. To learn more about BOTOX® in Los Angeles, you can request a consultation with us online or call our office at 310.246.0495 for more information.